GET YOUR MAN
   (VF: Il faut que tu m'épouses)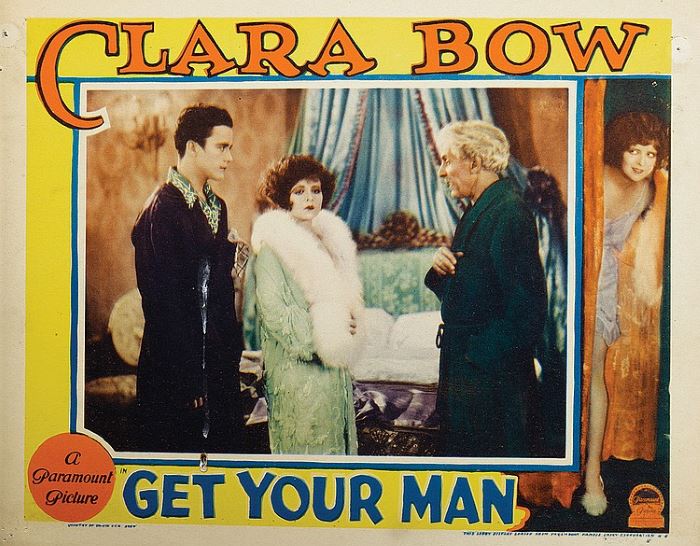 ---
Cast:
Clara Bow: Nancy Worthington
Charles 'Buddy' Rogers: Robert Albin
Josef Swickard: Duc d'Albin
Josephine Dunn: Simone de Valens
Harvey Clark: Marquis de Valens
   
Start
   


2 noble french families arranged the wedding of 2 babies, Robert & Simone, 17 years later they organize the betrothal. But Robert meet in Paris Nancy and they match immediatly,...

 
---
An incomplete movie without any sound

---
>  READ ENGLISH VERSION <:

                 

1927, Clara has already shot in 5 films including "It" and "Wings" it's a big year for her, it closes with this nice vaudeville, inspired by a French play of Louis Verneuil. It's Dorothy Arzner, the only woman director who drive the movie and it's very lively and successful.

Alas the film is incomplete, it lacks 2 reels which are the visit of Paris and the accident and it remains 1 hour unrestored with passages very deteriorated. Normally a restoration was made and as for "the River" the gaps are filled by a slide show (cf article below). Nevertheless we have on Youtube a watchable version and it does not hurt too much to understanding. So we feast because the diabolical plan of Nancy to "get her man" and break the aristocratic traditions, is preserved, so we are rather lucky.

She finds her partner of "Wings", Buddy, she will torture him with a certain sadism, but it is actually to be sure not to be suspected by the fathers of her feelings towards Robert. The play is delicious especially that we often have the impression that her plan will mess up




As in "It", she plays with the men, she seems to know the manual, and like puppets she does exactly what she wants. Because again  she has too much "It" and no one can long resist her.

It is also a bit of the modernity of an emancipated American girl who comes to shake old France and its archaisms. The Duke says "the families decide marriages", she answers "at home, the father feels happy if he can choose the divorce attorney": lol: Gee ! isn't it modern ?  we're in 1927 Ho!

Like all flappers they released women and made the world evolve far more than the overpriced 60s on sexual liberation.
>  LIRE LA VERSION FRANÇAISE < :

1927, Clara a déjà tourné dans 5 films dont "It" et "Wings" c'est c'est une sacrée année pour elle, qu'elle clôture avec ce gentil vaudeville, inspiré d'une pièce française de Louis Verneuil. C'est Dorothy Arzner, la seule femme réalisatrice d'Hollywood qui dirige le tournage et c'est très vif et réussi.  

Hélas le film est incomplet, il manque 2 bobines qui sont la visite de Paris et l'accident et il reste 1 heure non restaurée avec des passages très détériorés. Normalement une restauration a eu lieu et comme pour "the River" les manques sont comblés par un diaporama (cf article ci dessous). Néanmoins on a sur Youtube une version regardable et ça ne nuit pas trop à la compréhension. Du coup on se régale car le plan diabolique de Nancy pour "get her man" et briser les traditions aristocratiques, est préservé, on est donc plutôt chanceux.

Elle retrouve son partenaire de "Wings" Buddy, qu'elle va torturer avec un certain sadisme, mais c'est en fait pour être sure de ne pas être soupçonnée par les pères de ses sentiments envers Robert. La pièce est délicieuse surtout qu'on a souvent l'impression que son plan va foirer




Comme dans "It", elle se joue des hommes dont elle semble connaître le mode d'emploi, et tels des pantins elle en fait exactement ce qu'elle veut. Car là aussi elle a du "It" et personne ne peut longtemps lui résister.

C'est aussi un peu la modernité de l'américaine émancipée qui vient secouer la vieille France et ses archaïsmes. Le Duc dit "les familles décident des mariages", elle répond " chez moi, le père s'estime heureux s'il peut choisir l'avocat du divorce"  

 ça cingle non ?  on est en 1927 Ho ! Comme toutes les flappers elles ont libéré les femmes et fait évoluer le monde infiniment plus que les années 60 surcotées sur la libération sexuelle.
---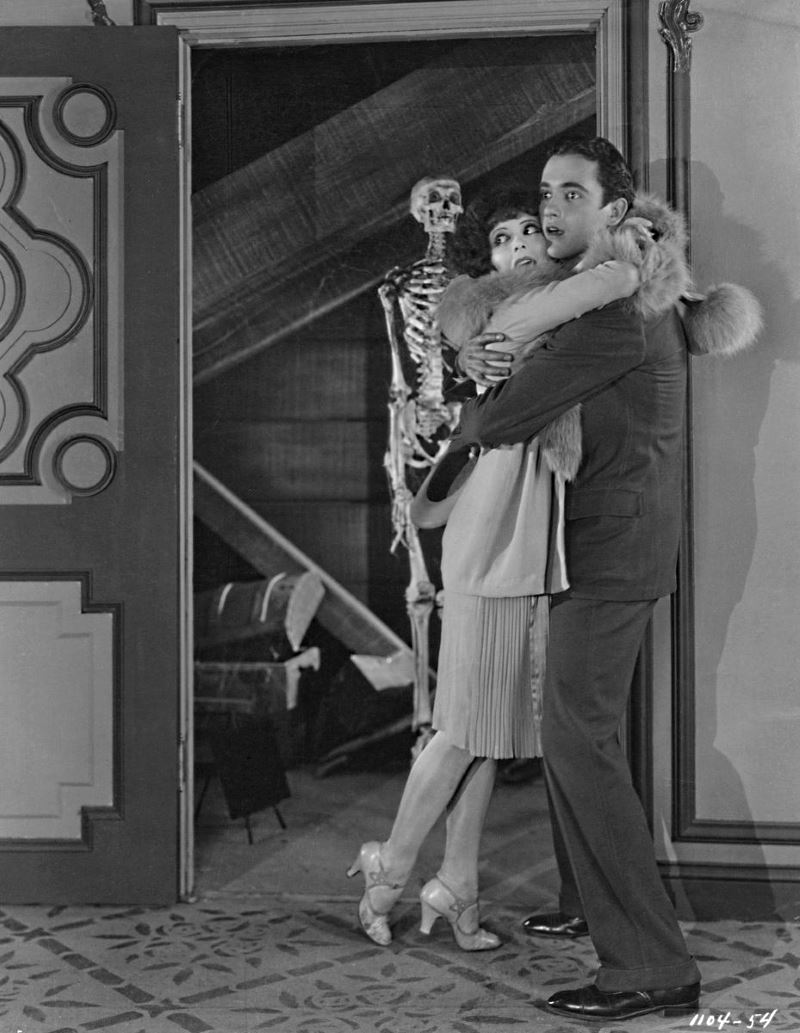 >  ABOUT RESTORATION < :




the Academy of Motion Picture Arts and Sciences to fill in the narrative gaps. MoMA was involved in the process as well, contributing three sequences of missing footage acquired from a private collector. The result is a 57-minute print, complete and viewable for the first time in generations. And to make matters even more historic, Sunday's premiere screening was accompanied on piano by Donald Sosin, using an original music cue sheet and vintage-style sound effects.

The reconstructed GET YOUR MAN flows remarkably well, far better than other films I've seen with photos replacing lost footage (like the restoration of George Cukor's A STAR IS BORN). And Bow's unique charisma is on full display in this predictable, yet utterly charming programmer.

cLARA Bow is Nancy Worthington, a liberated (of course) American in Paris who meets cute with French nobleman Robert Albin (Rogers) while on vacation by herself. (Quel scandale!) Robert and Nancy fall hard for each other, but an arranged, politically motivated marriage stands in their way. Faster than you can say "moxie," Nancy scams her way onto the family estate and into a Preston Sturges-style happy ending.

GET YOUR MAN plays like an alternate reality version of MGM's THE STUDENT PRINCE IN OLD HEIDELBERG – released just weeks later – with Bow as the anti-Norma Shearer. Bow's character is determined to succeed in her quest, and the audience can't help but root for her and, according to Stenn, be inspired by her.

"People say the Sexual Revolution was in the 1960s, but really it was in the 1920s and (Bow) was the foremost revolutionary of all," Stenn said. "GET YOUR MAN was a complete flip of courtship rituals that had no precedent."

Also without precedent was the creative force behind the camera, 29-year-old Dorothy Arzner, the only woman directing at the major studios at that time. Stenn said that the two got along well, despite Arzner's tight rein on Bow's tendency toward "fun" with members of the opposite sex. The end result is a "more restrained," historically significant Clara Bow film that now is available for new and old fans to enjoy for the first time in generations.

"In the old days, film archives were a little bit like Bosnia and Herzegovina – there wasn't a lot of cooperation," Stenn said. "GET YOUR MAN serves as a paradigm for what can happen in the future, so we can see films that don't survive in their entirety. I'm hopeful that that indeed will happen."

https://willmckinley.wordpress.com/2015/11/16/girl-reconstructed-clara-bow-in-get-your-man-1927/
 OUR CLARA TRIBUTE  

maxi




Messages

: 269


Localisation

: Nimes



---
Permission de ce forum:
Vous
ne pouvez pas
répondre aux sujets dans ce forum