---
Such a great success !
Cast:

Clara Bow: Betty Lou
Antonio Moreno: Cyrus
William Austin: Monty
Priscilla Bonner: Molly

Start
A young saleswoman from a department store falls in love with the president. Her exceptional charm, called the "It", will manage to seduce him while he is engaged.

Une jeune vendeuse d'un grand magasin tombe amoureuse du président. Son charme exceptionnel, elle a du "It", parviendra t elle à le séduire alors qu'il est fiancé.
---
>  READ ENGLISH VERSION <:

               

So here is the film that made Clara Bow famous. Based on a news from Elinor Glyn that explains the "it" (It), having "that" is having a natural, overpowering charisma that magnetizes just about anyone. Clara played the role, but in fact she embodied it, in French it you say

"elle a du chien"

, and the success of the film made that she was nicknamed

"the It girl"

We can say that this scenario was made for her, because it both defines and summarizes her, because Clara is certainly pretty, she broke into the cinema following a beauty prize in 1922, but she is mostly charming and it's due to her strong personality.

And obviously that her atrocious childhood with her schizophrenic mother made that she does not seem to be afraid of anything and has so nerve. Leader of the "flappers" she has helped breaking so many taboos to free women.

As a result, the bumpy character of Betty who jostles everything, in a Bulldozer way, is completely mixed for Clara and she probably had no trouble playing this movie.

His first weapon being her lovrly gaze with her big eyes, then her smile, and her volcanic energy. the manager's fiancée says "she does not have much reserve" to criticize her blooming behavior, he replied "no, she has plenty", ie she has plenty of resources. A crushed guy  




It's a comedy based on the misunderstanding with her friend's baby, and the mischievous Monty she dominates totally because he is subjugated and makes a great performance of nerd who will be her most precious ally to accomplish her ambitious enterprise.

This is the perfect demonstration of "It" power, because the smallest employee seduces the director who is already engaged, because it is irresistible and too bad for those who do not have it, the "Itless" as Monty says to console the discarded fiancee.

The film is pleasant with hilarious scenes such as her dress improvisation, her game with the baby or the finale scene on boat. But the interest of the film is especially the pleasure of seeing her, what a hurricane, such a great talent!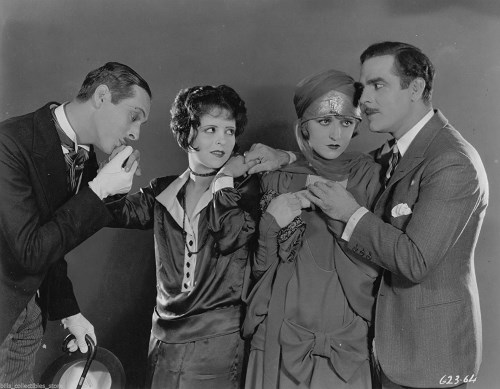 >  LIRE LA VERSION FRANÇAISE < :

     

Alors voila le film qui rendit Clara Bow célébrissime. Basé sur une nouvelle de  Elinor Glyn qui explique le "ça" (It), avoir du "ça", c'est avoir un charisme naturel, surpuissant qui magnétise à peu près n'importe qui. Clara joua le rôle, mais en fait elle l'incarna, en français on dit: "elle a du chien", et le succès du film fit qu'elle fut surnommée

"the It girl"

On peut dire que ce scenario était fait pour elle, car il la définit et la résume en même temps, car Clara est certes jolie, elle a percé dans le cinéma suite à un prix de beauté en 1922, mais elle est surtout charmante et ça c'est du à sa personnalité.

Et évidemment que son atroce enfance avec sa mère schizophrène a fait qu'elle ne semble avoir peur de rien et a tous les culots. Leader des garçonnes "flappers" elle aura contribué à briser tant et tant de tabous pour libérer les femmes.

Du coup le personnage culotté de Betty qui bouscule tout à la façon Bulldozer, se confond complètement avec Clara et elle n'a eut surement aucun mal à joué ce film.

Sa première arme étant son regard avec ses grands yeux, puis son sourire, et son énergie volcanique. la fiancée du PDG dit "elle n'a pas beaucoup de réserve" pour critiquer son comportement épanoui, il répondit "she has plenty", c'est à dire elle a plein de ressources  




C'est une comédie basée sur le malentendu avec le bébé de son amie, et le facétieux Monty qu'elle domine totalement car il est subjugué et fait une belle prestation de grand dadais qui sera son plus précieux allié pour accomplir son entreprise ambitieuse.

C'est la parfaite démonstration du It, car la plus petite employée séduit le directeur pourtant déjà fiancé, car c'est irrésistible et tant pis pour celles et ceux qui ne l'ont pas, les "Itless" comme dit Monty pour consoler la fiancée écartée.

Le film est plaisant avec qqs scènes hilarantes comme son improvisation vestimentaire, son jeu avec le bébé ou le final. Mais l'intérêt du film c'est surtout le plaisir de la voir faire, quel ouragan, quel talent !!  

   
---
---

maxi




Messages

: 269


Localisation

: Nimes



---
Permission de ce forum:
Vous
ne pouvez pas
répondre aux sujets dans ce forum