---
>  READ ENGLISH VERSION <:

I will not talk a lot about her life, it is described in wikipedia and many sites. No, I prefer to express my feelings about the "Tornado Brooks". This young dancer, raped when she was 9 years old, started in a dance way at 17.

She began her movie career at Paramount in 1925, she was only 19 !  It is obvious that her grace, thanks to the dance, her beauty, her haircut that made the world rage.  Still raging 1 century after, all this reveals such an amazing talent  and a personality bulldozer style.

She alone embodies these famous "flappers", free and emancipated women who have done more for the female condition in a few years, than any feminist movement. She had to undergo criticism, spitting and rejection as it was scandalous, in fact, she has more or less sacrificed her career, very brief, to assert her freedoms.

Frankly nowadays ,the women do not measure what they owe to this kind of hurricane and it would be nice if they pay tribute to her by discovering her, better late than never




Obviously her breathtaking beauty has confined her to immoral women's roles, but in 2 films she will be completely the opposite and actually everyone recognizes that her talent has not been enough exploited, fortunately that banished of Hollywood, she turned 3 pearls in Europe.

I created this modest subject as an introduction with mostly a list of detailed movies in beautiful cards, browse at least these cards and watch 1 or 2 of her films, 1 century after her beginning, she must be discovered by most people.
>  LIRE LA VERSION FRANÇAISE < :

Je ne vais pas parler de sa vie, elle est décrite dans wikipedia et de nombreux sites. Non je préfère exprimer mon ressenti sur la Tornade brooks. Cette jeune danseuse, violée à 9 ans, démarra de façon fracassante dans la danse et débuta sa carrière à la Paramount en 1925.

Il est évident que sa grâce, merci la danse, sa beauté, sa coupe de cheveux qui fit fureur ds le monde entier et qui sévit toujours 1 siècle après, tout cela dénote d'un talent hors du commun et d'une personnalité de type bulldozer.

Elle incarne à elle seule ces fameuses "flappers", femmes libres et émancipées qui ont plus fait pour la condition féminine en quelques années, que n'importe quel mouvement féministe. Elle a du en subir des critiques, des crachats et des rejets tant elle fit scandale, en clair elle a plus ou moins sacrifié sa carrière, très brève, pour affirmer ses libertés.

Franchement les femmes d'aujourd'hui ne mesurent pas ce qu'elles doivent à ce genre d'ouragan et il serait bien qu'elles lui rendent hommage en la découvrant, mieux vaut tard que jamais




Evidemment sa beauté époustouflante l'a beaucoup cantonnée à des rôles de femmes immorales, mais dans 2 films elle sera complètement à l'opposé et comme par hasard tout le monde reconnait que ce talent n'a pas été assez exploité, heureusement que bannie d' Hollywood, elle tourna 3 perles en Europe.

J'ai créé ce modeste sujet en guise d'introduction avec surtout un liste de films détaillés dans de belles fiches, parcourez au moins ces fiches et regardez 1 ou 2 de ses films, 1 siècle après ses débuts il faut la faire découvrir au plus grand nombre.

Hélas ses premiers films sont tout ou parti perdus, alors savourons ce qui est préservé,...
---
---
Films analysés dans notre site / movies analized in our vault
---
---
1 trailer 1926 "American Venus" (lost film)


---
---
Dernière édition par Admins le 01.12.19 9:23, édité 8 fois
Join the L.B.S.
NB: many archives are not available until end of 2019
---
So strange movie "INNOCENTS OF PARIS"
It is the first musical movie of Paramounts, "Innocents of Paris",
but without Louise Brooks
, she's in Germany. The hero is named Louise  
and the song was a great hit and of course everybody think of her. Maurice made a kind of french love declaration  for Brooksie. Or perhaps it was a desperate call of Paramount,... ???  
Marvelous slideshow with the famous french Maurice Chevalier who sung "Louise"  
Disk still exists  
Go to this song incredible success !
---
---
Dernière édition par maxi le 02.12.19 6:52, édité 3 fois

maxi




Messages

: 269


Localisation

: Nimes



90 years to emancipate women , but it's a continuing fight
90 ans pour libérer les femmes, mais la lutte est loin d'être finie
Thanks a lot Louise ! Your a Legend for women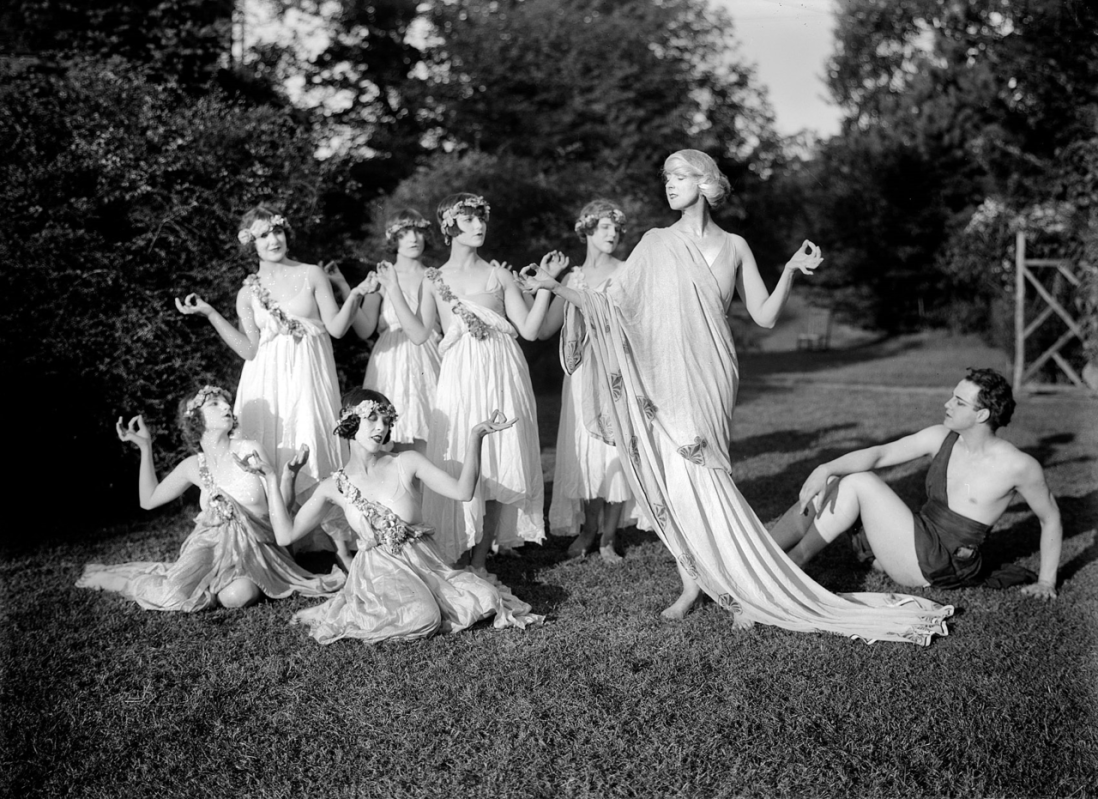 Denishawn dance company founder Ruth St. Denis and husband Ted Shawn
with a smattering of vestal virgins, Louise Brooks in the middle, 1920

Guest

Invité





Discover
The Chaperone
, march 2019 movie
based upon 1922 and Louise, 16 years old,  in dance beginnings
Review by L.B.S.
Official website
On USA TV Nov 24 and DVD on November 26  
---
Permission de ce forum:
Vous
ne pouvez pas
répondre aux sujets dans ce forum