---
Cast:
Louise Brooks: Nancy
Richard Arlen: Jim
Wallace Beery: Oklahoma Red
Bob Perry: The Arkansaw Snake
Blue Washington: Black Mose

Synopsis


Nancy killed her step-father who tried to rape her. Dressed as a boy, Jim help her to escape to Canada. But they cross the road of a group of hobboes...
---
---
>  READ ENGLISH VERSION <:

1928, the top of Louise's career in Hollywood, "the beggars of life" is considered her best performance, the IMDB notation emphasizes. And it's true that this film is excellent. First it's the remarkable performance of Wallace Beery who carries this film by its earthiness, and John Arlen, hero of the mythic "Wings" in 1927 is excellent too, so it's a fantastic casting.

The Arlen/Brooks duo works perfectly, a very moving Jim who falls in love and who takes all the risks to save her. He probably found that Nancy is really cute, dressed as a boy

 anyway everything suits her  

This is an escape movie, on feet, by train and by car and we do not get bored for a second. The stunt scenes with the train are very spectacular and realistic, Damn good ! So we have a romance in the heart of a thriller. As in "diary of a lost girl", Louise is in fact a victim, this murder is self-defense. It's great not trying for a single second  to seduce someone, and even it's the contrary, she always hide her beauty.

It makes it totally charming and even more adorable than playing a vamp or a bad girl.




Spoiler:

There are some very beautiful scenes:
- terrible: when she tells her aggression with this great superposition
- tenderness: in the hay when Jim covers her
- oppressive: in the wagon with all the men who devour her
- disturbing: this pathetic kangaroo court
- adorable: when she appears dressed as a girl, but wise this time, no tutu or black stockings.
- finally heroic sacrifice of Red, upset to have discovered the power of Love.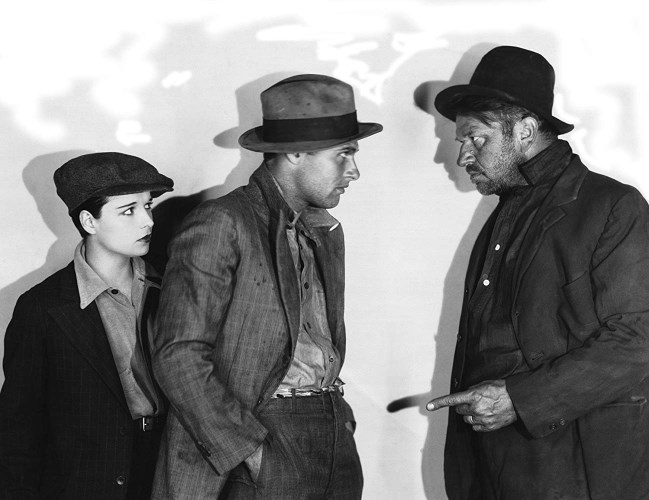 >  LIRE LA VERSION FRANÇAISE < :

1928, le sommet de la carrière de Louise à Hollywood, "les mendiants de la vie" est considéré comme sa meilleure performance, sa note IMDB le souligne. Et c'est vrai que ce film est excellent. Après la performance remarquable c'est surtout Wallace Beery qui porte ce film par sa truculence.

Le duo Arlen/Brooks fonctionne à merveille, émouvant Jim qui tombe sous le charme et qui prend tous les risques pour la sauver, lui aussi a du trouver que Nancy habillée en garçon c'était vraiment craquant  

 de toute façon tout lui va  

Il s'agit d'une cavale, à pied, en train et en voiture et on ne s'ennuie pas une seconde.Les scènes de cascades avec le train sont très spectaculaires et réalistes, chapeau ! On a donc une romance au coeur d'un thriller. Comme dans "diary of a lost girl", Louise est en fait une victime, ce meurtre c'est de la légitime défense, et de ne pas la voir une seule seconde chercher à séduire quelqu'un, et même l'inverse, la rend totalement charmante et encore plus adorable.




Spoiler:

Il y a des très belles scènes:
- terrible: quand elle raconte sa agression avec ce fondu génial
- tendresse: dans le foin quand Jim la couvre
- oppressante dans le wagon avec tous les hommes qui la dévore
- inquiétante: ce pathétique procès
- adorable quand elle apparait habillée en fille, mais sage cette fois, bas de tutu ou de bas noir
- enfin héroïque sacrifice de Red, bouleversé d'avoir découvert le pouvoir de l'Amour.
---
---
Permission de ce forum:
Vous
ne pouvez pas
répondre aux sujets dans ce forum