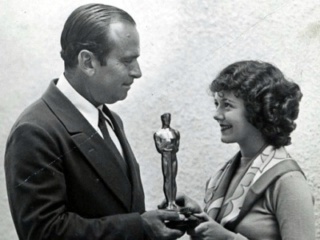 Douglas Fairbanks gave 1st Oscar of History
---
Wiki US
A moving slideshow which reveal how sweet she was
---
* * * * * READ ENGLISH VERSION * * * * * :

I will not tell about her life, you have her wiki for that, or foaming the net to find many articles for this little 5 feet woman, who will become one of Hollywood's biggest star, at FOX, and the first to be rewarded with a triple Oscar at the age of 22.

Rather than talking about her career paired with Charles Farrell and their 12 common movies, or her favorite directors, Murnau and Borzage, who have revealed her and offered her most beautiful roles




No, all that is findable everywhere. No, I prefer to tell about this surprising experience that was his discovery for me:

I'm a 58 years moviegoer, I've eaten miles of rolls, but I can not see everything, no one can, I've seen a lot of B&W movies, especially on the European side, but I've never seen Janet's movies before. Thanks to my back, a nasty Lumbago who stuck me in bed, I decided that this gray week in my head and gray outside to be a week of vintage movies and I had a look at the TSPDT and these 1000 indispensable movies.

There are several rankings, by years, alphabetical and by

rank

, it is this one that I look, each time when I want to increase my culture and I have rarely been disappointed, and in the first 20, only reminded 2 unseen, so it was "Sunrise", at random, without prejudice and knowing absolutely nothing about history ...

I  created of course a beautiful sheet where I analyzed this film at my level of feeling and I will not detail this here. I just want to say it was an unforgettable moment, perhaps bedridden (it hurts a lot) I was emotionally vulnerable, the fact is, I took one of my biggest slaps in front of a movie, I was amazed and upset by the brilliance of Murnau and especially I felt in love with Janet...

 







Oh I know that she would be 113 years old and she's been in heaven for almost 40 years, so what ?  

She left on the film the memory of her beauty, her grace, her naturalness, the precision of her play, the sweetness of her look and her wonderful smile. In the midst of a world of arrogant people, egocentric stars, sophisticated and inaccessible people, we feel in her this simplicity, this sincerity, which makes the adjective that constantly comes from everywhere, she's

"Adorable"

in competition with

"Angelic"

Especially since this film (Sunrise) allows her to be more and more beautiful, cheerful and happy throughout the film, the final screen is almost a painting.

I imagine easily in 1927, a world without screens except those of cinemas, how much she capsized hearts, starting with this good Charles Farrell's one, and I am even jealous of this "guy" who hugged her hundreds times but without getting married...  

Objectively, she is not a top model, 5 feet, a small chest, a little pretty and no more, and so what ? She doesn't have to do a soap advertisement, she's an actress ! She has the beauty of another age, even though this kind of woman no longer exists elsewhere, she talks to your heart, she has such charm and talent. Gee! at this moment I was good for a cold shower and hot chocolate to slow down my heart

So all this free time was a blessing,

thank you my low back pain

! I scoured the net, browsed all Youtube, there is unfortunately not many good videos, because many, many movies are irretrievably lost. I mostly ordered some DVDs and watched what was available, and it was the famous "7th Heaven". She leaves the arms of George O'Brien for those of Charles Farrell,  and passes from the hands of Murnau to those of Borzage (chronologically it is the opposite). And again, she is so so great.  

But it's not enough ! She also made the 3rd movie of her award, "Street angel" !  and you know ? i cried again ! how not ?  

While waiting for the Borzage's box, I looked  "Sunny side up" of 1929 , where the duo brilliantly broke the silent wall by interpreting one of the first true musical comedies. barely 2 years after her Oscar for silent melodramas! a 180 ° turn , what an Amazing Star!!  

And as alas "the 4 devils" of Murnau seems irretrievably lost, I fell back on"a star is born " an 8 years leap forward, 1937, and here it is in color for one of the most cultured Hollywood movies, they did it 4 x!

November 2019 , the best moving month of my life  

 
---
* * * LIRE LA VERSION FRANCAISE * * * :

Je ne vais pas raconter sa vie, il suffit pour ça de lire sa fiche wiki, l'américaine étant bien plus complète que la francophone évidemment, ou d'écumer le net pour trouver de très nombreux articles pour ce petit bout de femme de 1m52 qui deviendra une des plus grandes stars d'Hollywood, à la FOX, et la 1ere à être récompensée d'un oscar triple à l'age de 22 ans.

Plutôt que de parler de sa carrière jumelée à Charles Farrell et leurs 12 films communs, ou de ses réalisateurs fétiches Murnau et Borzage qui l'ont révélée et offert ses plus beaux rôles.







Non, tout ça c'est trouvable partout. Non je préfère parler de cette expérience surprenante que fut sa découverte pour moi.

Vieux cinéphile de 58 ans, j'en ai bouffé des kms de pellicules, mais impossible de tout voir, et du N&B j'en ai aussi beaucoup vu, surtout du coté Europe, mais je n'avais jamais vu de films de Janet.  Grâce à mon dos, un méchant lumbago qui me cloua au lit, je décidais que cette semaine grise dans ma tête et grise dehors allait être une semaine de cinéphilie vintage et je jetais un oeil au classement TSPDT et ces 1000 films indispensables.

Il y a plusieurs classements, par années, alphabétiques et par

notations

, c'est cette dernière que je regarde quand je veux accroitre ma culture ciné et j'ai rarement été déçu, et dans les 20 premiers seuls 2 manquaient à mon actif ce fût donc l'Aurore, au pif, sans préjugés et sans savoir absolument rien sur l'histoire...

J'ai bien sûr créé

une belle fiche

où j'ai analysé ce film à mon niveau de ressenti et je ne vais pas détailler ça ici. Je veux juste dire que ce fût un moment inoubliable, p-e que cloué au lit (ça fait très mal) j'étais un peu vulnérable émotionnellement, le fait est, que j'ai pris une de mes plus grosses claques devant un film, j'étais émerveillé et bouleversé par le brio de Murnau et surtout je suis tombé amoureux de Janet...





Oh je sais qu'elle aurait 113 ans et qu'elle est bien sûr au ciel depuis presque 40 ans, et alors ?  

Elle a laissé sur la pellicule le souvenir de sa beauté, de sa grâce, de son naturel, la précision de son jeu, la douceur de son regard et son sourire si merveilleux. Au milieu d'un monde d'orgueilleux, de stars égocentriques, de sophistication et de pas mal de gens inaccessibles, on sent chez elle cette simplicité, cette sincérité, qui fait que l'adjectif qui revient sans cesse de partout, c'est

"Adorable"

en compétition avec

"Angélique"

Surtout que ce film (Sunrise) lui permet justement d'être de plus en plus belle, gaie et heureuse tout au long du film, l'image de fin est presque une peinture à elle seule.

J'imagine aisément en 1927, un monde sans écran hormis ceux des cinémas, à quel point elle a du faire chavirer les cœurs, à commencer par celui de ce bon Charles Farrell, et j'en suis même jaloux de ce "sale type" qui l'aura étreinte des centaines de fois, sans jamais réussir à la marier, mais probablement étaient ils souvent ensemble...  

Objectivement, ce n'est pas un top modèle, 1m52, peu de poitrine, un joli minois sans plus, et alors ?  Elle n'a pas à faire une pub de savon, c'est une actrice ! Elle a cette beauté d'un autre age, p-e même que ce genre de femme n'existe plus d'ailleurs, elle emporte les cœurs, elle a du charme et du talent. Bon à ce stade j'étais bon pour la douche froide et un chocolat chaud pour ralentir mon cœur.  

Du coup tout ce temps libre fût une bénédiction, merci le lumbago ! J'ai écumé le net, parcouru tout Youtube, il n'y a hélas pas grand chose, car beaucoup, beaucoup de films sont irrémédiablement perdus. J'ai surtout commandé qqs DVD et visionné ce qui était disponible, et ce fût le célèbre  

7th Heaven (l'heure suprême)

. Elle quitte les bras de George O'Brien pour ceux de Farrell, Grrrr  

et passe des mains de Murnau à celles de Borzage (chronologiquement  c'est l'inverse), je fais tj les choses à l'envers.  

ET là encore elle est formidable.

J'attends désormais "Street Angel" le 3e de sa trilogie dorée qui lui valut un Oscar archi mérité et remis sans fanfare à une première

Cérémonie des Awards

très discrête, pas de reportage, ni caméra, et quasiment pas une photo,... triste non ?

En attendant le coffret Borzage, j'ai regardé très difficilement (à cause de la qualité de la vidéo) "Sunny side up"de 1929, où le duo réussit brillamment le virage du parlant en interprétant une des 1eres vraies comédies musicales. à peine 2 ans après son oscar pour des mélodrames muets ! virage à 180°  Chapeau !!  

Et comme hélas "the 4 devils" de Murnau semble irrémédiablement perdu, je me suis rabattu sur

"a star is born"

un bond de 8 ans en avant, 1937, et la voila en couleur pour un des films les plus culte d'Hollywood puisqu'ils l'ont fait 4 x !

Novembre 2019, le mois ciné le plus émouvant de ma vie
Look at her talking transformation


"Keep your Sunny Side up!!"
Lyrics:

There's one thing to think of when you're blue,
There are others  much worse off than you!
If a load of troubles should arrive,
Just laugh and say, "It's great to be alive!";

If you can't buy lobster or cake, you're lucky your tommy won't ache.
...... ?? missing words ???  ....

Keep your sunny side up, up,
Hide the side that gets blue.
If you have nine sons in a row,
Baseball teams make money, you know!

So Keep your funny side up, up,
Let your laughter come through, do!
Stand up on your legs,
Be like two fried eggs,
Keep your sunny side up!

Life can be a pleasure or a pain,
Good or bad, successful or in vain;
Happiness is just a point of view,
If you have it here's the thing to do;

Keep your sunny side up, up,
Drown a frown with a smile.
If you think it's raining for you,
Just remember, others are blue.

Always look for the bright side,
Start the day on the right side;
You'll find life worthwhile,
Learn to wear a smile,
Keep your sunny side up!
An other Tribute for this sweet Angel
---
---
---
---
Dernière édition par maxi le 18.01.20 11:47, édité 10 fois

maxi




Messages

: 269


Localisation

: Nimes



Married 3 times, everyone knows that her real big love was in fact Charles Farrell, her partner in 12 beautiful movies where their affection is obvious. It was a secret and unfinished love, Charles wanted to marry her, but she refused, explaining that they were too different, him sports and party and she not at all. At the age of 33 she decided to stop the cinema, she had been constantly shooting since the age of 15.
French:

Mariée 3 fois, tout le monde se doute que son vrai grand amour fût en fait Charles Farrell, son partenaire dans 12 superbes films où leur affection saute aux yeux. Ce fût un amour secret et inabouti, Charles voulut la marier, mais elle refusa, expliquant qu'ils étaient trop différents, lui sportif et fêtard et elle pas du tout. A 33 ans elle décida d'arrêter le cinéma, elle tournait sans cesse depuis l'age de 15 ans et déclara:
She later explained:"I had been working steadily for 17 long years, making movies was really all I knew of life. I just wanted to have time to know other things. Most of all I wanted to fall in love. I wanted to get married. I wanted a child. And I knew that in order to have these things one had to make time for them. So I simply stopped making movies. Then as if by a miracle, everything I really wanted happened."
At the top of the industry, she retired at age 33.
Their mutual friend, Douglas Fairbanks Jr., explained that they were all three together and that he helped them to hide their relationship, which no one doubts when we see how they look at each other in the movies.
Somehow this is why their films are so natural and so moving because they do not play comedy ... they really loved each other. Their hugs were necessarily deeply sincere, but their non-marriage remains a mystery...
French:

Leur ami commun Douglas Fairbanks Jr, expliqua qu'ils étaient tj tous les 3 ensemble et qu'il les aida à cacher leur liaison qui ne faisait de doute pour personne quand on voit comment ils se regardent dans les films.
Quelque part c'est p-e pour cela que leurs films sont si naturels et si émouvants puisqu'ils ne jouent pas la comédie, ... ils s'aiment vraiment.Leurs étreintes étaient forcément profondément sincères, mais leur non mariage demeure un mystère.
---
---
---

maxi




Messages

: 269


Localisation

: Nimes






Revealed in the 13 WAMPAS of 1926

Mary Astor, Mary Brian, Joyce Compton, Dolores Costello, Joan Crawford,
Marceline Day, Dolores Del Rio, Janet Gaynor, Sally Long,
Edna Marion, Sally O'Neil, Vera Reynolds, Fay Wray




The Wampas Baby Stars: An Introduction


en haut à droite

 



Between 1922 and 1934, the Wampas Baby Stars were budding actresses who reigned as symbols of new life waiting to be breathed into the Hollywood community. They were young, they were beautiful, they were poised on the edge of movie stardom. But not all of the Babies ever got there. Some became household names (and still are) while some have been almost completely lost to time.

Wampas is not a children's television show or a noise you would shout when you hit your brother with a rubber bat. Rather, it was an acronym for the Western Associated Motion Picture Advertisers. Founded in 1920, the organization was made up of both publicists who worked within the studios and also some freelancers. They needed a publicity gimmick and found it in annually selecting 13 female up and comers with perceived star quality.

They called these women "Baby Stars" -the baby referring to their rank as stars in training instead of squalling infants. The studios probably weren't opposed to the free publicity of their contract players and endorsed the venture which quickly became a sought after and legitimate honor.

So who got to be a Wampas Baby?

1). To justify, in some part, the title of "Baby," the girl would typically be young (under 25).
2). She would be an actress who had at least 3 film credits under her belt (according to the original rules of selection, though this was changed later).
3). She was not completely unknown to the public, but had not yet achieved stardom.

Many girls could be nominated, but only a lucky 13 (with 2 alternates) were selected for the honor (with the exception of 1932 when a triple tie resulted in 15 girls being named). A committee was created within Wampas to handle the elections and ballot counting. Given the clout the award quickly obtained, this was a serious process met with a lot of excitement and anticipation.

The impact and buzz of this process and the ceremony that followed, known as the Frolic, is often compared in modern musings to that of the Academy Awards today. Held every January, the Frolic was a ball where the new Babies would be formally introduced.

Dernière édition par Admins le 04.12.19 9:44, édité 3 fois
Une carrière parfaite de 17 ans et tant de beaux films, chapeau, son dernier exploit étant d'avoir réussi son évolution dans le parlant, la couleur et surtout d'avoir su s'arrêter et fuir Hollywood d'elle même avant d'être "finie", car l'avalanche de jeunes stras se fait croissante et réalisons qu'à cette époque, une femme après 30 ans et bien c'était un peu vieux pour les shows, c'est ainsi, arrivées grâce d'abord à leur beauté, elles devaient en accepter son caractère éphémère...
Jamais entendu parler, oui ils sont tombés dans un oubli injuste, on pense tj à Chaplin ou Laurel et hardi

Guest

Invité





Small exercice with her best movies:
Petit exercice en clin d'œil de ses principaux films:Tribute to Janet:
Dear Janet, You was absolutly right to be a Dreamer, till the Sunrise you always kept your Sunnyside up, because a street angel like you, so delicious and so adorable  could become a lucky star. Charles said: Ifilled my eyes of you, so do we because you was such a Remarkable girl, and normally you reached your 7th heaven, now...
I would have a talking picture of you
---
Permission de ce forum:
Vous
ne pouvez pas
répondre aux sujets dans ce forum